This talk was given at a local TEDx event, produced independently of the TED Conferences. Mallence Bart-Williams introduced her second home Sierra Leone and its talented people, who are part of her project FOLORUNSHO. Find out more via
http://www.tedxberlin.de
Mallence Bart-Williams was born in Cologne, Germany. She is a Sierra Leonean writer and filmmaker and a German fashion designer. She pursued her studies in economics and finance in Paris, Singapore, and Great Britain. Today she lives across the globe, produces an all-natural cosmetics line in Hong Kong, and is the founder and creative director of the Freetown-based creative collective FOLORUNSHO, a 'SHARITY' that she initiated with street kids in Sierra Leone.
Due to her German-Sierra Leonean roots she perceives herself as a bridge connecting two vastly different worlds. Her diverse background enables her to see creative solutions to common problems. Within their three years of operation, her collective has taken homeless children off the streets and into school, developed a sneaker and clothing collection, published a book and documentary of their story, and has held fine art exhibitions. Through her work with FOLORUNSHO she connects cultural contrast, enabling people to share ideas, take action, and get results.
About TEDx, x = independently organized event In the spirit of ideas worth spreading, TEDx is a program of local, self-organized events that bring people together to share a TED-like experience. At a TEDx event, TEDTalks video and live speakers combine to spark deep discussion and connection in a small group. These local, self-organized events are branded TEDx, where x = independently organized TED event. The TED Conference provides general guidance for the TEDx program, but individual TEDx events are self-organized.* (*Subject to certain rules and regulations)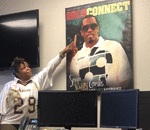 Posted By: Elynor Moss
Monday, March 11th 2019 at 10:29AM
You can also
click here to view all posts by this author...